« Back to News & Notices
PWSD #2 Audrain County chosen as MRWA's 2020 Drinking Water System of the Year!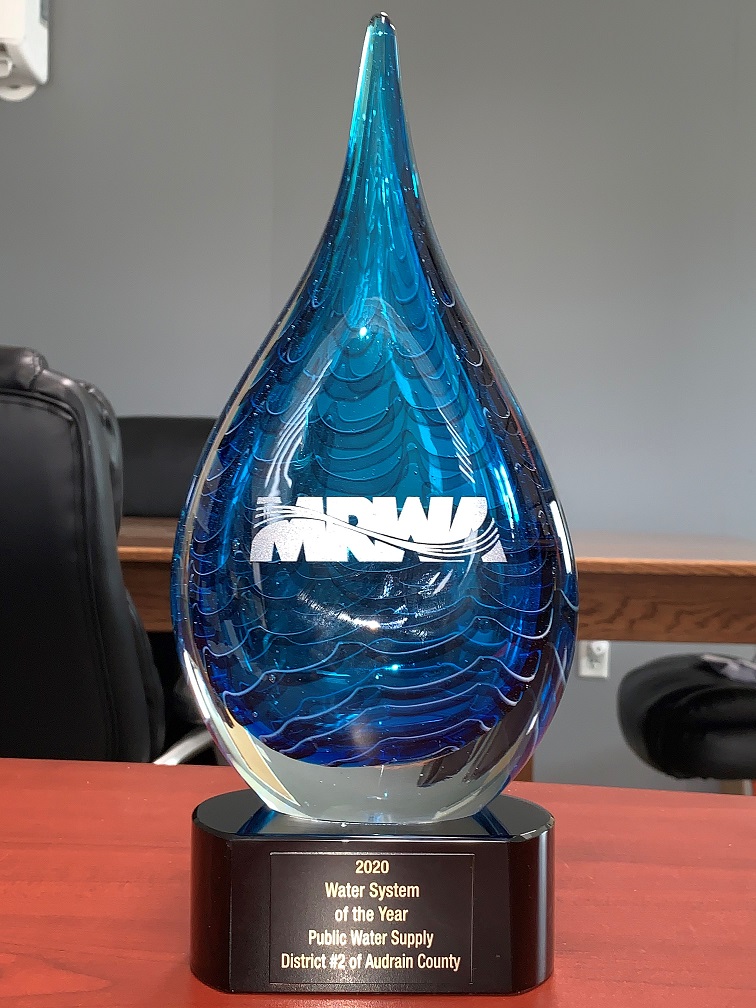 PWSD #2 of Audrain County has been chosen as Missouri Rural Water Association's (MRWA) Water System of the Year Award for 2020!
Criteria include overall operations, financial responsibility, managerial effectiveness, regulatory compliance and participation within the industry.
MRWA accepted nominations throughout this past year. The top three nominees were chosen by the Association's staff after reviewing submissions both from within MRWA, water utilities & state and federal agencies.
Finalists were visited by MRWA staff members & evaluated using a 100-point questionnaire. These systems were chosen for their excellence in managerial, operations & service to their customers. This award is one of the most honored & prestigious awards given by MRWA.
The honor alternates between two classes of water systems, with municipalities judged one year & water districts the next.
The award was announced at the MRWA Annual Technical Conference & Trade Show in Branson, Missouri on March 10, 2019.
MRWA is a non-profit organization providing on-site technical assistance, training & regulatory & legislative representation for public drinking water systems.
For more information about MRWA, visit its website @ http://www.moruralwater.org or contact Joe Anstine, Circuit Rider @ 901 Richardson Dr., Ashland, MO 65010 (573) 657-5533 or 660 351-0394 janstine@moruralwater.org.